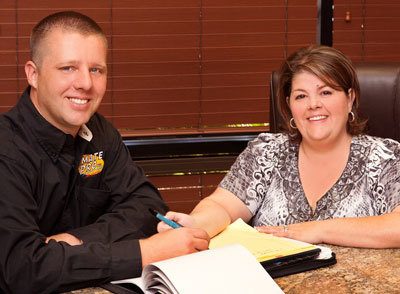 Erica: Dan and I were high school sweethearts. He started working in the AC industry when he was 18 years old. About a dozen years ago, he realized he could do a better job on his own than working for another company. So, we put together enough money to buy a truck and I stayed at home making outbound maintenance calls. Today, we're over 40 employees strong and we love the company we've built!
Dan: We're proud to be a company that does right by our customers and does right by our staff. We believe that you should be able to trust the people that come into your home to give you a livable climate. All of our policies, procedures, and warranties culminate in the most important measure that we live by: Total customer satisfaction. Climate Pro has ZERO NEGATIVE complaints as a registered contractor. We do whatever we need to do to make our customers happy. That's job number one and it comes before profit.
Erica: Our company has people from all walks of life. Many of our technicians came from other fields and were taught the HVAC business right here. We support their goals and dreams through our training programs as well as our personal involvement in helping them map out and achieve their own family and individual desires. We've got people working here that had never saved money in their lives. They've since paid off their houses, they've paid off their college debt, stuff they never thought they would be able to do. We believe that when our employees are successful, the company is going to be successful.
Dan: We have even gone so far as letting go of talented staff who may have been great at selling but not a good fit for our customer-centric approach to doing business. Doing right by our customers has proven to us that it is the way to a long-lasting, enjoyable life and the key to success in this business.